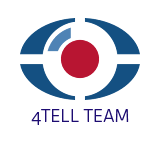 Instituto de Telecomunicações - Pólo de Aveiro - Campus Universitário de Santiago, 3810-193 Aveiro
About 4Tell Research Team
4TELL is a visionary and cutting-edge research team within the Wireless Communications Research Area at the Instituto de Telecomunicações in Aveiro. The competence of the team is focused on targeting innovative solutions in 4 principle domains, namely in providing Ubiquity, Convergence, Optimized and Secure solutions for communication networks of the future.
The mission is to carry out world class research and innovation for the next generation of ubiquitous and converged network and service infrastructures for communication, computing and media leading to a real IP multimedia world of services. This entails addressing the evolution from today's large legacy infrastructures towards the new infrastructures by striking a balance between backward compatibility requirements and the need to explore disruptive architectures to build the future internet, mobile, broadband, broadcasting and associated service infrastructures.

Numerous publications are held by the team across many fields.