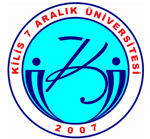 Mehmet Sanlı Mah. Doğan Güreş Paşa Bul. No:134, 79000 Kilis
About Kilis 7 Aralık Univerity
Kilis 7 Aralik University was founded on May 29, 2007 in accordance with the relevant law.
Kilis 7 Aralik University is composed of Faculty of Arts and Sciences, Muallim Rifat Faculty of Education, Faculty of Economic and Administrative Sciences, Yusuf Serefoglu Higher School of Health, Vocational School of Higher education, Health Services Vocational School of Higher Education, Graduate School of Social Sciences and Graduate School of Applied Sciences.
Currently, our university has two campuses—main campus and Karatas campus. There are approximately 4000 students including graduate and under-graduate. Our university has 8 decares of land.